The Philippine central bank cut its benchmark interest rate by a quarter of a percentage point Thursday, keeping a promise to continue easing monetary policy while price pressures are benign.
Bangko Sentral ng Pilipinas reduced the overnight reverse repurchase rate to 4%, the third reduction this year. That was in line with the forecasts of all but two of the 28 economists surveyed by Bloomberg.
Governor Benjamin Diokno signaled the rate cut in an interview last week and then on Wednesday lowered the central bank's inflation forecast for this year to 2.5%. Forecasts show inflation remaining in the lower half of the bank's 2%-4% range through 2021, Diokno told reporters after Thursday's move.
"Given these considerations, the Monetary Board believes that the benign inflation outlook provides room for a further reduction in the policy rate to support economic growth and reinforce market confidence," he said in explaining Thursday's decision.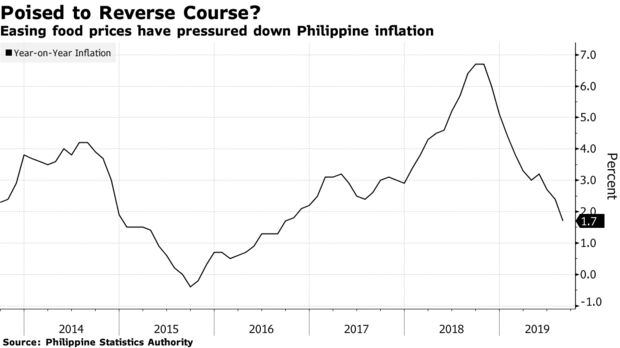 The BSP was among Asia's most aggressive central banks in tightening monetary policy last year as oil and rice prices drove up inflation and an emerging market sell-off put the currency under pressure. The central bank has since reversed course this year amid slower economic growth and inflation.
Noelan Arbis, Southeast Asia economist at HSBC Holdings Plc in Hong Kong, said he expects Bangko Sentral to reduce the proportion of funds banks must keep in reserve — known as the reserve requirement ratio, or RRR — by another 100 basis points later this year, and to cut the benchmark rate by another 25 basis points early in 2020.
"We expect the BSP to pause on policy rate cuts for now — at least, until the end of the year," Arbis said. "Government spending is picking up, exports have turned positive, and consumer sentiment has turned more upbeat."
Consumer prices rose 1.7% in August from a year ago, the slowest pace in nearly three years, while economic growth slowed to 5.5% in the second quarter, the weakest in more than four years. The government sees growth accelerating to 6%-7% this quarter given higher government infrastructure spending and private sector investment.
What Bloomberg's Economists Say

"With inflation below-target and external headwinds to growth elevated, the path appears to be wide open for the central bank to continue reducing rates in the months ahead."

For more insight from Bloomberg Economics, click here

— Justin Jimenez, Asia economist
Thursday's rate-cut decision came just before markets closed, with the peso extending gains against the dollar to end 0.2% higher.
Dennis Lapid, director of the central bank's monetary policy sub-sector, said prior easing steps seem to be taking effect.
"We've seen, so far, some pass-through from the rate action" and some improvement in domestic liquidity conditions after RRR reductions, Lapid told reporters in Manila. Policy makers also considered lending factors in the decision to cut rates, he said.
Emilio Neri, Bank of the Philippine Islands' chief economist, said the central bank likely can cut rates just one more time before the middle of next year, as any more would risk a return to negative real interest rates.
"History has proven that Philippine markets tend to enter a zone of volatility whenever that happens," he said.