The Phuket mascot has officially been announced and the winning mascot is 'Nong Joong' – a baby lobster created by Jin Sataponsathitsuk, who received 100,000 for his efforts. The baby lobster mascot represents a naughty kid who loves eating, exploring, and loves learning new things.
His goal is to discover Phuket through fun activities, delicious food and great experiences. His best friend, Umi, a baby sea urchin, keeps calling him Joong, instead of Goong (that means prawn in Thai).
The mascots are expected to be the representative and symbol for Phuket tourism and will welcome tourists from all around the world. The organisers laid out the concept of the mascot, saying that it had to be "outstanding, beautiful, charming, impressive and approachable".
The event was organised by the BIC Event Group. Earlier when the contest opened, there were more than 200 pieces of art submitted from many provinces across Thailand.
Phuket's Governor chaired the award ceremony and handed out the prizes to the winners. Apart from first prize winner, Nong Joong, the second prize went to 'Nong Ang Lai' created by Panatratha Sae-Eung – a 12 year old girl who has pineapple head.
The pineapple represent the 'lucky fruit' and also Phuket signature fruit.  Nong Ang Lai is a playful and friendly character and wears a Chinese red dress, considered a lucky colour in Chinese culture.
The second place winner received a 20,000 baht prize, who also won the popular vote prize by Phuket Tourism Association.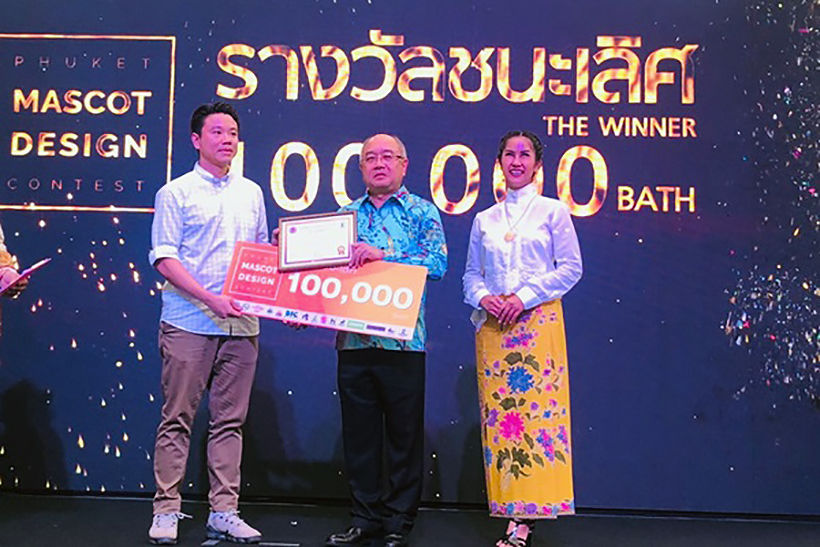 The winner of the competition received a Bangkok Airways round trip ticket for Bangkok – Phuket and 3 nights complimentary stay at Baba House Phuket. The third place winner was 'Andaman Boy' created by Thani Muannut, who received a 10,000 baht prize.